Veiws 16845
BMZ is "The Best Exporter 2016"
Byelorussian Steel Works has been recognized as the winner in the contest BMZ is "The Best Exporter 2016" in "Metallurgy" nomination. The Award and Certificate were presented to General Director of the enterprise, namely Anatoli Nickolaevich, Savenok, on May 19.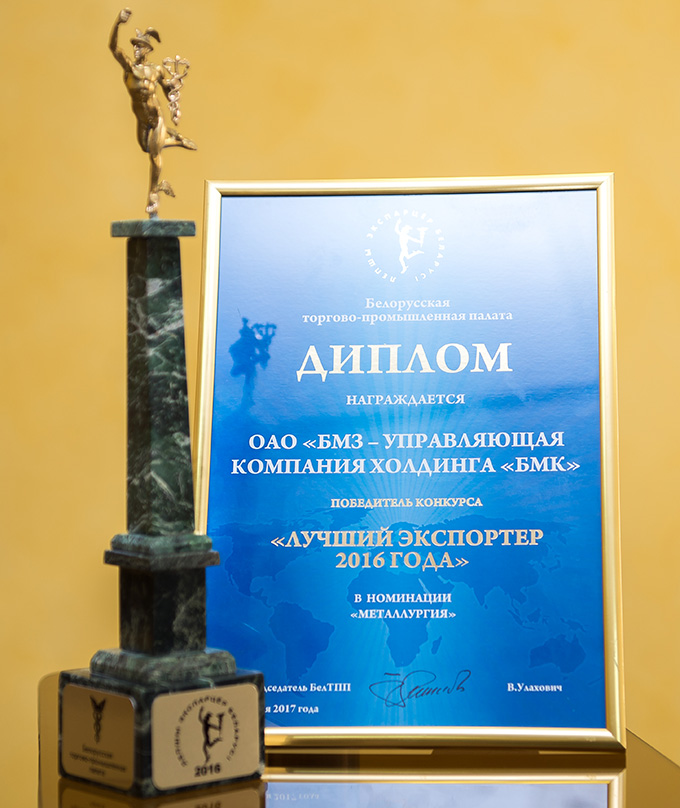 Within all its history BMZ has always been advancing, which enhances quality of products produced, and enables to develop manufacturing processes for new types of marketable metal products. This is what makes it possible for BMZ to hold its position in the global market and to carve out new niches. Thus, BMZ products were exported to 52 countries in 2016. Export share (of total production volume) amounted to 85% in 2016. As for promotion of new products: a good example here is how sales of metal products manufactured in rolling shop – 2 are organized, i.e. the products were dispatched to 27 countries last year, and export share for this time amounted to more than 80 per cent. The Netherlands, the USA, Israel, Poland, Germany became the major consuming countries for the products manufactured in the new shop.
It should be noted that successful promotion of products by Byelorussian Steel Works has been awarded time and again in 'The Best Exporter' contest: BMZ was the winner in 2007, 2010, 2014 and 2015.